AirGhandi tests Weihrauch HW95 Luxus! How will this beautiful and high-quality air rifle perform? What output does it have and how constant is it?
I will answer these and many more questions in my report and the accompanying video.
Let's start.
The setup for today's test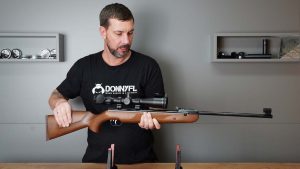 Today I mounted a special scope on Weihrauch HW95. My Hawke Frontier FFP 3-15×50 SF is normally designed for hunting rather than air rifle shooting. I still wanted to take a closer look at the optics, so I tested it for a while. It has an incredible optical quality. Anyone who is interested is welcome to purchase it from me.
Again, I chose the fitting mount from Sportsmatch UK. Sportsmatch UK HTO36C impresses with precision and extremely high workmanship and material quality.
As always in my Weihrauch and Diana tests, I used AirGhandi's Finest. They work simply outstanding, also in Weihrauch HW95 Luxury.
The special feature of Weihrauch HW95 Luxus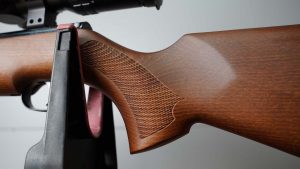 HW95 is an excellent all-round air rifle. At 42.3" (107.5 cm) and weighing 7.4 lbs. (3.4 kg), it's still nice and handy and not too heavy during long shooting sessions either. The weight distribution is well balanced.
The dark stock is made of beech wood with a walnut finish. The forend as well as the grip area has a beautiful and nice stippling.
At the end of the stock is a rubberized butt plate.
Technical specifications of Weihrauch HW95 Luxus
Weihrauch HW95 Luxury is a spring-piston / break-barrel air rifle. When you cock the barrel until it locks onto the system, you can then insert a pellet into the 0.177" (4.5 mm) barrel. You hardly have to use any strength when you put the barrel back up. The wedge lock then holds the barrel securely in the desired position.
Now you just have to deactivate the automatic safety that had activated during the cocking process, then you can fire the shot.
When aiming, the shooter is free in their decision. You can either aim using the open sights made of metal rear sight and metal front sight, or you can use a rifle scope. The latter can be mounted on the 11 mm prism rail. If the scope mount has a stopper pin, then it can be inserted into one of the three holes to keep the scope from moving.
If you shoot via the open sights, then you have several front sight inserts at your disposal. They can be inserted into the sight tunnel at the barrel end from the top. The rear sight, adjustable in height and laterally, can also be tailored to your own preferences. For this purpose, 4 different notches are available, which can be adjusted by turning the rear sight blade.
The trigger is the well-known Weihrauch match trigger Rekord. The first stage travel, trigger weight, and trigger pull are adjustable. There are quite a few shooters who think that this is the best trigger outside of match guns.
Shooting with Weihrauch HW95 Luxus
I have to admit, I had a really tough time at first. HW95 is a sister model to HW98, and it shoots similarly. Anyone who has seen my review and my video has certainly also seen my rather poor shooting test. However, it has been proven to me several times that this is my fault, as Weihrauch HW98 is, even for competitions, an outstandingly accurate rifle.
So, I had to acquire a shooting technique that was absolutely new to me. I usually shoot as described here in this post. That didn't work with HW95, though.
That's why I bought a pad that slides better and just held the rifle by the grip. I didn't put the forend on my left hand, I put it on my old Caldwell Cadcu. Then I had to make sure that I put the rifle only lightly against my shoulder for every shot.
Please bear with me if I didn't perform as well as the rifle would have been able to. I promise to train on this shooting technique for future videos if necessary.
What else did I notice during the shooting test?
HW95 has an incredibly low recoil. You almost have to say that it practically hardly has a recoil. This is, of course, very pleasant for the shooter and absolutely beneficial for the precision.
My conclusion of Weihrauch HW95 Luxus
From my point of view, Weihrauch HW95 Luxus is one of the most beautiful break-barrel air rifle from Weihrauch. With a weight of 3.4 kg, this rifle is also not as heavy as, for example, the extremely popular Weihrauch HW35.
The stock is beautiful and has a high-quality finish. The stippling further enhances this impression.
The rifle is absolutely recommended for any recreational shooter who likes high-quality rifles.
Do you own a Weihrauch air rifle?
What is your favorite rifle?
Thank you very much for visiting my website and have a nice week!
Best wishes!
Yours, Andi
Interesting links:
Do you already know my international YouTube channel? HERE you will find videos of more powerful air rifles in English.
You can compare all air rifles tested so far HERE.