Weihrauch HW98 is optically the most beautiful Weihrauch air rifle for me.
Thanks for reading and see you next week!
Just kidding! 😉
The review was too short? Alright, I'll try and go into more detail about Weihrauch HW98.
That's Weihrauch HW98
Weihrauch HW98 is a spring-piston air rifle. It is manufactured in Mellrichstadt here in Germany and is one of the highest quality spring-piston air rifles that I'm aware of. The 2020 version has been revised once again and offers the possibility to unscrew the barrel. The barrel has a 1/2" UNF thread underneath to which a silencer or compensator can be attached. There are a lot of possible adjustment options.
Besides the butt plate, which can be adjusted laterally and in height, there is also the option to adjust the height of the cheek piece. This ensures that you can still comfortably look through the scope. A scope is absolutely required, as Weihrauch HW98 doesn't have any open sights.
Even structurally longer scopes used for Field Target, for example, can be conveniently attached to the 11mm prism rail.
Shooting Weihrauch HW98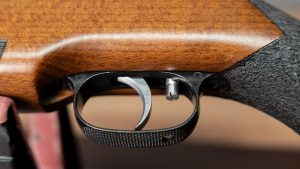 As with all high-quality Weihrauch air rifles, Weihrauch HW98 is of course equipped with the well-proven match trigger Rekord. It is fully adjustable and perfectly preset ex works.
For those who want to have a go here, the pre-travel, trigger pull, and trigger weight can be adjusted. Personally, I have seen no reason for adjusting anything.
Once the cheek piece and butt plate of the rifle have been correctly adjusted, the rifle lies comfortably on your body.
The pellets are easy to load. The whole system works smoothly. I also didn't hear any scratching or troubling noise when closing HW98. Everything runs smoothly and quietly.
The automatic safety, which must be deactivated before each shot, is Weihrauch typical on the left side and easily reached with the right thumb. You already know this from many other Weihrauch air rifles.
When you shoot, the rifle gives you clear feedback in the form of a medium recoil, which is transmitted to your shoulder via the rubberized butt plate.
I have a visitor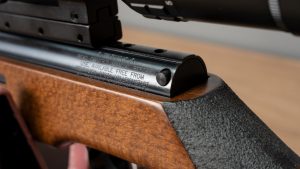 A few days after I filmed the video, Marco, a buddy of mine, came over. Of course, he also wanted to take a look at HW98 right away. We quickly mounted a scope, and he took a few shots. Well, what can I say: it would have been better if Marco had done the test for the video.
What he achieved with the rifle in terms of accuracy within a few minutes was better than anything I had been able to get out of it in the days before. It rarely happens, but every so often I get my hands on a rifle that I'm just not immediately comfortable with. I've experienced live that HW98 is absolutely capable of precision. But what's the reason I couldn't achieve that?
Does any of you here have an explanation for me?
My conclusion of Weihrauch HW98
I think HW98 is the most beautiful of all Weihrauch air rifles. There are of course many other great models, but this rifle is close to perfection.
Due to the many adjustment options, people of different statures can adjust the rifle to fit them exactly.
The wide barrel jacket is an absolute eye-catcher. I really like it. The fact that a part of the barrel can be removed, and a silencer can be attached to the 1/2" UNF thread hidden underneath, of course, tops it all off.
You can tell, I'm really excited. I won't just accept my shooting result and will continue to practice over the next few days. I will keep it for a few more days and make use of this time.
What's your favorite Weihrauch air rifle?
Again, thank you so much for taking the time to read my post and watch my video.
There will be another post next week.
I'm looking forward to hearing from you again!
Best wishes!
Yours, Andi
Interesting links:
HERE is an overview of all air rifles I have tested so far.
You want a rifle scope but you don't know which one you need? I'll advise you HERE.
Do you already know my international YouTube channel? HERE you will find videos of more powerful air rifles in English.