In my review of Diana 54 AirKing Pro, I have already given this rifle a lot of praise. I showed you the air rifle in more detail and did a shooting test at 10.9 yards (10 meters). As expected, the result was pretty good. When I achieved the excellent shooting result, it was immediately clear to me that I had to test the rifle at longer distances.
Finding a date wasn't easy. It has been raining for weeks and trying to combine good weather, Dirk's schedule and my schedule turned out to be not that easy.
However, we finally managed it.
The setup of AirKing Pro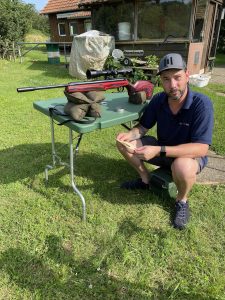 Diana 54 AirKing Pro, which I shoot today, is the F model with 7.5 joules. You can check out the consistency, performance and chrony test in my review.
Of course, as in the review, I'm using my AirGhandi's Finest pellets.
The mount I use is a SportsMatch ATP61. It is height adjustable. This has the great advantage that we can tilt the scope slightly forward and then adjust it so that the AMX reticle is right in the center of the lens. This means we get the best possible quality out of the optics. If this was too fast for you or if you need help with this subject, please feel free to contact me via my contact form. Of course, I will be happy to help you.
Today I'm using a Hawke Airmax 30 FFP SF 6-24×50. Of course, you can order this scope like all other scopes from Hawke and Element Optics directly from me. The scope features a high lens coating, fine reticle, and is shockproof. Especially the latter is extremely important for AirKing Pro. There's a reason why the old AirKing as well as Diana 56 TH are called "scope killer". The great thing is that Hawke offers a 10-year manufacturer's warranty. So, you're on the safe side. That's very important to me.
Shooting with AirKing Pro
After I adjusted the air rifle to the wind, I was ready. I was excited to see the shot grouping at 27 yards (25 m). The conditions weren't the best. I don't just mean the wind, but also the table I use for shooting. The great thing is that it's light and portable. The downside that comes with it is that it obviously doesn't provide a 100% stable base for my rifle. Anyway, we didn't have laboratory conditions, but I still tried to make the best of it:
My conclusion of shooting AirKing Pro at 27 yards (25 m)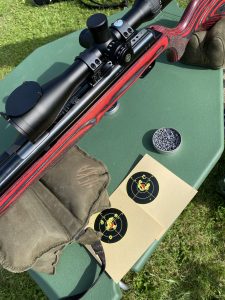 I was really happy. My major concern before the first few shots was, while we had the opportunity to shoot outside that day, the results wouldn't be presentable. Fortunately, I was proven wrong.
I'm totally impressed with the overall package of Diana 54 AirKing Pro. You have an extremely high-quality air rifle in your hand. The handling including cocking, loading, and shooting is absolutely excellent. After you've fired 50 shots, you feel like you've done physical activity. The feel of the stock and the bolt action lever is great.
For me, Diana 54 AirKing Pro is the top recommendation for all shooters who can't afford or don't want a high-end compressed air rifle with all the accessories, but still want recoil-free shooting and maximum precision.
You can see that I can't stop raving about it.
Have you ever had the opportunity to shoot an air rifle with a recoil system?
How do you like this system?
Thank you so much again for reading and watching my video.
See you next time!
Best wishes!
Yours, Andi
Interesting links:
If you need advice on scopes or scope mounts, feel free to contact me via THIS FORM.
You can find my review of Diana 54 AirKing Pro and the video with Englisch audio HERE.
HERE you will find my own online shop jabololo.de. Have a look!
Do you already know my international YouTube channel? HERE you will find videos of more powerful air rifles in English.