Element Nexus is the flagship rifle scope from Element Optics. I had the opportunity to take a closer look at this scope and will present you the main features today.
Choosing the right version
Element Optics Nexus is available in two different versions, each with two different reticles. First, you choose between the 5-20×50 MRAD and the 5-20×50 MOA version. With both, you then have the choice between a clear reticle ("C" for "clear") and a tactical reticle which has more markings. The latter has the abbreviation "D" for "dirty".
I'm testing Element Nexus 5-20×50 MRAD APR-1D.
Professional shooters developed the two reticles for us shooters. The MOA reticle was developed by the well-known YouTuber Ted Bier and the MRAD reticle was developed by Matt Dubber himself. This cooperation paired with Shane Kellar and employees of the Swedish air gun manufacturer FX Airguns guarantee high quality. Every Nexus that leaves the Swedish company is inspected by the professionals beforehand.
The scope arrived
I have rarely checked UPS tracking so often and been so excited to see the nice UPS driver. The scope had made its way to me from Sweden and came along with an Element Helix. I had arranged with Shane Kellar of Element Optics to get these two scopes to take a closer look at them for you guys.
On a Friday morning, the time had come. I finally held my first Element Optics scope in my hand. I follow as many topics as I can on social media and manufacturer websites. The scopes had been in my focus for over a year. And especially after reading so many positive reviews, I was incredibly excited about the optics.
My first thought when I took the "Made in Japan" scope out of the box: this is pretty compact and lightweight. For some reason, I thought Element Optics' flagship would be bigger and heavier. However, the compact dimensions are of course a big advantage of Nexus.
Technical specifications of Element Nexus
The body is made of one piece of aircraft aluminum with a thickness of 0.08″ (2 mm). This provides great stability and protects the glass from damage in case of accidental impact or dropping. Even the recoil of various rifle calibers won't damage the rifle scope. Element Optics uses a machine to simulate the shock of 500 .50 BMG shots that the Nexus easily withstood.
The zoom range covers a 4x magnification of 5-20x with a lens diameter of 50mm.
The reticle, which can be illuminated in 10 steps, is in the first image plane (FFP vs. SFP). By limiting it to 4x magnification, the reticle doesn't get too small when zooming, but it doesn't get too big either. The manufacturer has deliberately chosen this zoom range.
The closest focusing distance is 10m. This makes the scope interesting not only for hunters or long-range shooters, but also offers very many advantages for air rifle shooters.
The lenses are all fully coated, have a 5x anti-reflective coating and the extremely high quality is not only found in the center of the lens, but also all the way to the edges.
A light transmission of 91% is otherwise found almost only with German manufacturers of top rifle scopes. For a scope with an adjustable zoom range and 50mm lens, this is an outstanding number.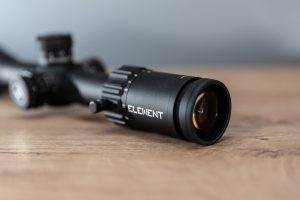 The objective and eyepiece lens are coated in order that neither dirt nor oil can stick there.
The internals of the turrets are made of stainless steel. You notice the outstanding quality with every click you make. Of course, you can also reset the towers and set them to 0. You can adjust 10 MRAD or 20 MOA per rotation of the turret. In total, the turrets make 80 MOA or 23.2 MRAD.
Especially the precision in adjusting the turrets is outstanding. It has a deviation of less than 1%. That means: You make 100 clicks in one direction and then 100 back again. You will end up no more than 1 click away from the starting point.
The glass also has a hard mechanical Zero Stop. If you don't want this, you can remove it by loosening 3 grub screws.
Scope of delivery of Element Nexus
The Swedish manufacturer didn't skimp on the scope of delivery either.
In addition to a zoom lever that you can optionally attach, there is also a high-quality scope cover as well as a lens hood.
My conclusion
Wow, wow, wow!
First of all, I'm extremely proud that the guys from Element Optics approached me and asked me if I would like to test a rifle scope from them. They certainly wouldn't have done that if they weren't completely convinced of their products themselves. The lifetime warranty also suggests outstanding quality.
Then, of course, I'm happy to offer the optics in my new online shop www.jabolo.de. There, I only want to offer products of excellent quality with a good price/performance ratio, and Element Optics fits in perfectly.
Element Nexus is an outstanding rifle scope for many shooters. Whether you are a long-range shooter and want to shoot at many hundreds of meters or an air rifle shooter and want to shoot at 10m. If you are looking for outstanding quality at a comparatively low price, then you can't get past Nexus. Japanese lenses have not just recently ranked among the best, and the light transmission of the 4x zoom challenges top German brands such as Zeiss or Schmidt & Bender.
Here the whole concept is right from the felt, glass, aircraft aluminum to the stainless steel.
Treat your favorite rifle to this outstanding partner!
You know that I try to answer all questions. If I have left something out, just write to me via the known contact methods.
Now, thank you very much for your interest and time!
Have a great week.
Best wishes!
Yours, Andi
Interesting links:
If you don't know which is the right scope for you, I'll help you HERE.
Take care of your firearms! HERE you will learn how!
Do you already know my international YouTube channel? HERE you will find videos of more powerful air rifles in English.