Today I want to tell you a little more about my Daviesbuilt Gunstocks stock for my Weihrauch HW30 S.
I'm always on the lookout for something special and exotic in our common hobby. I spend many hours a day with my smartphone in my hand, browsing the Internet for products related to air rifle shooting. Then, when I find something, I have it sent to me from all over the world so I can take a closer look at it. The best products then make it into a video on my YouTube channel and some will even be sold in my shop www.jabolo.de.
Now it's time, I'll show you the stock for my Weihrauch HW30 S that I designed together with Thomas Davies and had him then build it for me.
The stock
I don't need to tell most of you readers that Weihrauch HW30 S is one of my absolute favorite rifles. I have produced countless videos about this rifle, owned and shown various versions. There are even modification and tuning videos. I'm already working on another one.
For me, the downside of HW30 S is that the original stock doesn't have an adjustable cheek piece and butt plate. Thus, this rifle is actually a little too small for me. However, the shooting performance and handling are outstandingly good. That's why I've been looking for a new stock for a long time, one that might even allow me to compete with the rifle. But that was only one aspect. It's important to me that I can shoot the small rifle comfortably as well.
The order
I then came across Tom Davies via Facebook. We deliberated for months about the design and finally, almost 7 months after the first thought, the stock made its way to Germany.
As many know, shipping from England to Germany is not really convenient at the moment. I receive packages from the island on a weekly basis, some after several months of shipping. One has even disappeared altogether. Also, the transport costs are horrendous and the fact that you additionally have to pay customs doesn't really make shopping there more attractive. However, I knew all that beforehand and it didn't discourage me from ordering the stock. When I set my mind on something, I don't stop until I've made it happen.
Shooting with my new Weihrauch HW30 S
The wait and the financial effort were absolutely worth it! I'm absolutely thrilled, and the air rifle feels amazing when holding it in a shooting position. Normally, I like to shoot while sitting and having the rifle placed on my hand. With the Daviesbuilt HW30 S, however, it's a lot of fun to shoot in a standing position. You can customize it like a match rifle and it's extremely light weight. The precision is, like before, extremely good. This is, of course, ensured by the improvements that I have added to HW30 S.
Tuning of Daviesbuilt Weihrauch HW30 S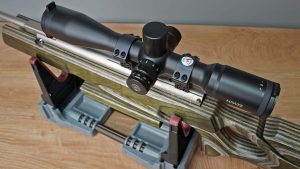 Those who already watched my videos about it know that I installed a tuning trigger in my small HW30. You can find all the information about this trigger in this post. Then I also installed the AirJoe tuning kit for Weihrauch HW30 S. Once you've given your air rifle this upgrade, you'll notice how much better it shoots. Weihrauch air rifles are already from the factory incredibly good and high quality. Every part of the tuning kit, however, was carefully selected and assembled by hand. This provides a significant advantage compared to the factory rifle.
Videos showing how to install the trigger and tuning kit will follow. We are working on it.
For now, enjoy the many photos that Dirk has taken. And of course, the video:
How do you like the rifle?
Do you have a Weihrauch HW30 S in your gun cabinet?
Have a great week!
Best wishes!
Yours, Andi