FX Dreamline Compact has arrived on the German market as an F version. In Germany, the F stands for frei / free and indicates that the muzzle energy doesn't exceed 7.5 J and the air gun can be owned by persons from the age of 18 years without needing a license.
How good is the PCP air gun? And for whom is this model suitable?
I did the test for you and took a closer look at FX Dreamline Compact.
What's different about FX Dreamline Compact?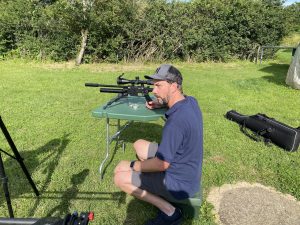 FX Dreamline Compact Lite obviously differs from the already known FX Dreamline Lite by its shorter design.
Both the barrel and the cartridge are shorter than the well-known Dreamline Lite model. Two questions in particular will be interesting for us: Is Dreamline Compact just as precise as the long model? And what about the capacity of the cartridge?
You can see the precision of Dreamline in the video. I can tell you a lot, but the video speaks for itself.
I was fascinated by the capacity of the 300-ccm cartridge. I gave Denise the counter and shot the cartridge from 230 bars to 75 bars.
The regulator is set to approx. 60 bars. To be on the safe side and avoid damaging my borrowed rifle, I ended my test at a cartridge pressure of 75 bars. It's important that you never dry fire your FX Dreamline, regardless of model, when the cartridge pressure is below the regulator pressure. In this case, the hammer would hit the valve needle without any counter pressure. If you do this a few times, the valve needle will be broken.
Denise had to press the counter exactly 257 times. That's exactly how many shots I was able to fire until we got to a cartridge pressure of 75 bars. I think that's absolutely outstanding for such a compact air rifle!
My setup for FX Dreamline Compact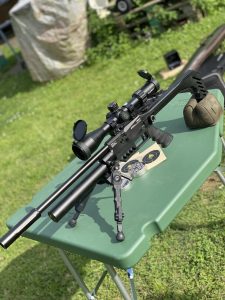 The look of my air rifle is just as important to me as having a setup that makes sense.
I have configured my Dreamline in a way that I find ideal.
I used a Sportsmatch UK ATP61 mount. It is a high-quality, height-adjustable mount for 11 mm prism rails and for rifle scopes with a 30 mm center tube diameter.
If you pick your own mount, make sure to get a high one for FX Dreamline Classic, FX Dreamline Lite and FX Dreamline Compact Lite since the 22-round magazine sticks out of the top of the rifle quite high. Sportsmatch UK ATP61 barely fits under the scope. Lower mounts would no longer allow the magazine to be inserted.
ATP61 is perfect for my Element Helix 6-24×50 FFP MRAD.
If you don't know the post about the scope yet, you should definitely take the time to read it and watch the video. An excellent scope with a lifetime warranty and great features. It is important to use a height-adjustable mount here. Otherwise, the line of sight and the line of fire will not meet. So, the lines wouldn't meet even if you turned the height turret all the way up. By raising the rear mount a bit, this problem can be solved.
I attached my Accu-Tac WB-4 bipod to the short Picatinny rail at the bottom.
I attached a Donny FL Tanto to the 1/2″ UNF barrel thread. It dampens the muzzle blast so much that the rifle is barely audible.
You can purchase the bipod, the mount, the silencer, the scope and also the small FX Dreamline Compact from me. If you have any questions about these or other products, please feel free to contact me.
Choosing the pellets
Like all the other FX air rifles I've shot, FX Dreamline Compact likes soft lead pellets best. However, it is still important to stick to a certain head size.
I tested more than 20 different pellets. The three pellets that worked best for me were JSB Exact 0.547 gram with a head size of 4.52 mm, JSB Exact 0.547 gram with a head size of 4.53 mm, and JSB Exact Heavy 0.67 gram with a head size of 4.52 mm.
Is a short barrel precise?
People often ask me whether a 7.5 joule air rifle with a short barrel is just as precise as an air rifle with a long barrel. I can answer that with a clear "yes". You can watch the video attached here in this post. There you can see the shot test which should answer this question as well.
When it comes to long shooting distances and high performance, a long barrel is definitely important. However, it doesn't matter with our German air rifles with less than 7.5 joules and normal distances. It can even be an advantage because the pellet leaves the barrel sooner and is no longer affected by possible movement or barrel vibrations.
Anyway, my tests have clearly proven that FX Dreamline Compact is in no way inferior to the long version of Dreamline in terms of precision.
My conclusion of FX Dreamline Compact
I must confess, I have never been interested in ultra-compact versions of air rifles before. For me, the look of the rifle plays an important role. When I take a gun out of my gun safe, I want to enjoy the sight of it. Many air rifles simply look truncated when built extra short. It's different with FX Dreamline Compact. It totally meets my taste.
The handling is outstandingly good. It's super easy to transport and carry it around. I also like GoGun's decision to use Dreamline Lite as the basis for the compact model.
I'm sure the small Dreamline Compact will find many fans. I'm already one of them.
How do you like the small air rifle?
Thank you for your time!
See you next time!
Yours, Andi
Interesting links:
You can order a FX Dreamline Compact (only within Germany), a DonnyFL Tanto silencer, a Helix 6-24×50 FFP MRAD scope, a Sportsmatch UK ATP61 mount and a Accu-Tac WB-4 bipod from me HERE.
Do you know my review of FX Dreamline? There you will find a lot of basic information.
HERE you can directly go to my partner GoGun!
Do you already know my international YouTube channel? HERE you will find videos of more powerful air rifles in English.